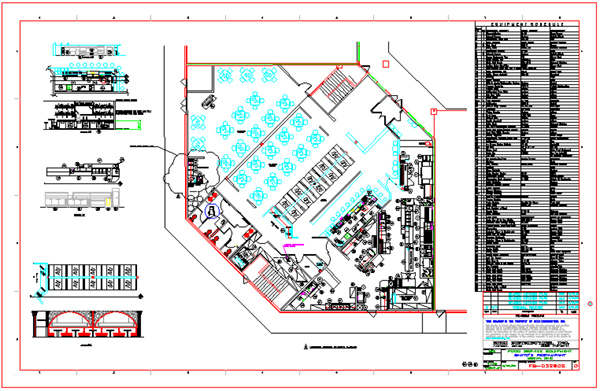 From discussing the initial concept to adding the "often overlooked" final touches, we provide services for every phase of creating the optimal interior space for the job at hand. We carefully examine the layout of the building using on site dimensioning and customer provided blueprints to produce the most productive movement of staff and customers resulting in cost-effective service and easier, efficient workflow. We use specific tools, such as elevations, detailed equipment layouts with schedules, fabrication drawings, and product data books, to visually understand your concept while incorporating the materials selected for your space. From beginning to end of a project, every angle is handled with accurate and thorough attention.
We utilize our extensive AutoCAD library and capabilities to satisfy every question regarding the layout of your building such as wall finishes, flooring, windows, furniture, food service equipment placement, etc. We work as a team with our clients to create a layout that will function properly and perform to the maximum efficiency.
Our designers and project mangers strive to create food preparation and serving areas that are efficient in productivity and workflow. Whether starting from scratch or renovating an existing space, Rizzi Distributors, Inc. will create a unique and functional layout specially placed together with your ideas and opinions all within an available budget.
All of us at Rizzi Distributors, Inc. are looking forward to working with you and your customers in the future, making ideas come true.